Take a look at some of our Classic and Custom Car Work!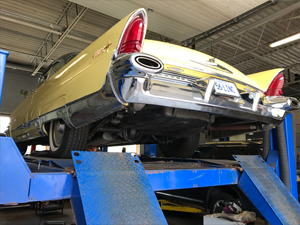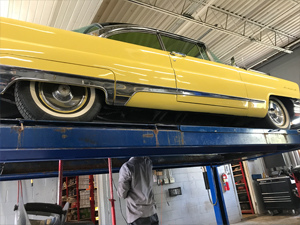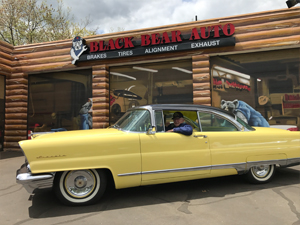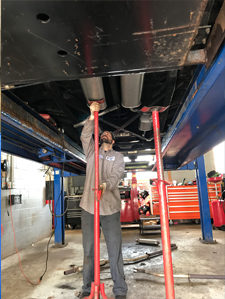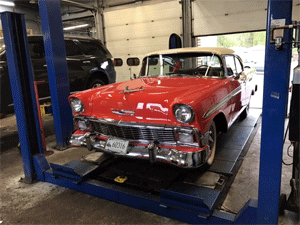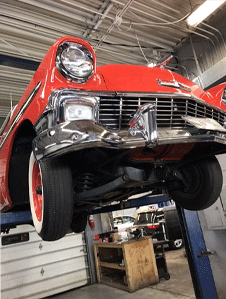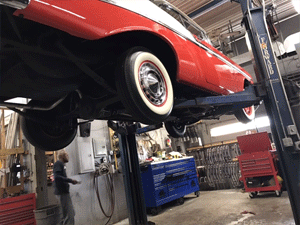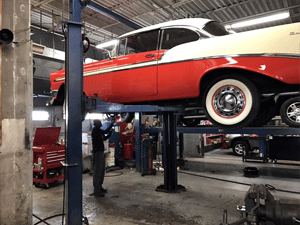 Are you looking for quality service, professionalism, really cool stump carvings, and to get your car running in tip-top order? Look no further! Black Bear Auto is not only reliable, but their staff is a pleasure to work with! I will definitely be coming back for future work and recommending to friends

Cassidy Neri

, 05/22/2020



Barry always takes great care of me and my truck. I get honest and affordable prices. Best service in the Bristol area for sure.

Greg L.

, 03/25/2020

Black Bear's staff is very professional but still hometown friendly. I'd recommend them for all your vehicle repair/maintenance needs. They are now my 'go to' business to keep my Subaru in top condition.

Bev Rackliffe

, 03/19/2020



I love this place. Very professional. I drop off my car and I receive a ride to work and pick back up. I work locally. They are not expressive. I love how they explain everything they are going to do. I love the entire team there. The only downside I don't really like they are only open Monday to Friday. They are close on the weekend. So I pray I don't have any car issue.

Nickesha Davis

, 03/18/2020



A great place to fulfill your auto needs. Really makes you feel like family.

cailin barnes

, 03/17/2020



C ouldnt get better service anywhere Barry the p we need is very attentive to your needs

Bill Hodge

, 02/21/2020



Had my 88 mustang gt convertible serviced here. Replaced motor mounts and door lock actuators, also did complete inspection. They provided report of items needing service including pictures as proof of issues. Highly recommend this repair shop. Very impress with their professionalism. Would definitively used them again.

Jose Rivera

, 02/18/2020



I have been Barry's customer since 2001. What I most appreciate about the service is that his mechanics check my car over thoroughly ever time I get an oil change and alert me to potential and real problems.

Brian Chapman

, 02/14/2020



I've been taking my cars to Black Bear for over a year now. Really friendly and honest service. I just bought a car from them two weeks ago. A day after I picked up I noticed a few small things that needed attention. Black Bear took it back, fixed everything and got the car back to me quickly. I would recommend them to anyone. I love doing business with them.

Michael

, 01/17/2020



Quickly in and out, fixed my flat tire for a reasonable price. I've been a customer for many years and I'll keep coming back!

Kyleigh Makowski

, 01/14/2020



Great service and top notch workmanship!

richard gadomski

, 01/06/2020



Had work done a year ago. A part failed and they warranted the replacement. No cost to me. They are old school good with new world technology. Have done small things, no cost. Gave me a ride home and picked me up when car was ready. Great place

William Murphy

, 01/04/2020



Barry and his staff brought my Outback back to life... I am not taking my car anywhere else.

Kenzie DeLaine II

, 12/30/2019



Once again, Barry and his team came to the rescue. Had some engine issues with a GMC Terrain and they fixed it with fast, reliable, friendly service. Thanks again!!

Chris - Bristol, CT





I was visiting from out of state, and had a problem with my car. Black bear got me in same day, fixed the problem. I was thrilled with the amount of time it took, great customer service, complementary soft drinks and water, and fantastic price. Very pleased.

Susanne Gladding - Willis, VA





I have been a customer with Barry at Black Bear for about 20 years. Needless to say I trust their service and quality of work. They stand by what they do and take care of issues that may occur. They have kept our 2003 Mini Cooper with 190,000 miles on the road. Our 2010 Honda Civic is running well with 91,000 miles on it. Why go anywhere else?

STEVE - BURLINGTON





I had a flat tire and had my car towed to Black Bear Auto. It was a Sunday and the shop was closed until Monday morning, so I didn't expect it to be repaired. But the owner, Barry Balaban, just happened to be there and took an hour of his Sunday afternoon to fix my tire. I couldn't believe that fantastic level of service. I mean...who does that nowadays? If I could give him 10 stars, I would. Absolutely excellent and absolutely recommend.

Eve Fralick - Manchester, CT





We love Black Bear! We have been having our cars serviced by them for 18 years. They are always fast to get you in and always gets the cars serviced or repaired quickly. They are friendly and really personable and they really know what they're doing. Because we are so confident in them, our children have grown and have taken their cars to Bear as well. And now that our grand daughter is driving, she also takes her car to Black Bear. I highly recommend! After 18 years Barry is more than our mechanic, he's our friend.

Sally Court - Southington, Ct





I love having these guys just around the corner. Thay are quick, courteous, and more than professional. I have gone to them for just about any job I could think of and they always walk me through it. The information they provide is clear and easy to understand, especially when you know nothing about cars. I reccomend them to everyone I know.

Caitlyn Graham - Bristol, CT





They completed a very complex set of work on my truck: -Engine replacement, including several new accessories. -Exhaust pipe repair. -Plow accessory repair. My Dodge Ram V10 can be a tough one to find parts for but they did not fail to find and install everything it needed. They juggled scheduling (mine/theirs) to get everything done before holiday break. They would not say the job was complete until all details were sorted out. In the Bristol area, this is the right shop to do business with.

Bill Mohler - Bristol, CT





This is my 1st time at Black Bear for brakes. Barry made it an awesome experience. Fast and great customer service at a reasonable price. I would definately recommend them to my friends and family.

Ann Quinto - Bristol CT





I went to Black Bear Auto today thinking I had a major problem. I was leaking transmission fluid. The folks at Black Bear Auto immediately fit me in their schedule. I quickly learned I just had a worn plug. The service was prompt and honest and the cost was minimal. What a relief! Thanks so much.

Joseph K.





Black Bear Auto is an Outstanding repair facility. Barry takes excellent care of your car and stands behind all his work 100% . I brought my car in for front end problems and Barry had the problem solved quickly. Barry and his staff listen to the customer's complaints and ask for you to road test the car to find out what the problem is. They treat the customer with respect and honor. I can think of no where else to take my car. It is so hard these days to find and good mechanic. Barry is a certified mechanic and his staff is very dedicated to helping the customer and fixing the problem . Prices are always fair and as I said before, Barry stands behind all his work. I recommend Black Bear very highly. Stop in and see Barry. You will be impressed.

Alan B.





I was frantic when Veron's Auto decided to retire, then I heard about Bears. They truly are a great company who's owner and staff are top notch. Door to door service and reasonable rates for the amount of work that they did to my car. (I hate taking my car to a dealer) So my experience was wonderful and i'll keep them doing work on my car. Thanks!

Rick B.





I have a custom performance exhaust system that was on my truck when I bought it. After several years the muffler and tailpipe separated. I looked online to try to find a "good" exhaust place. I found Black Bear Auto which was rated quite well. I called and Mike was able to fit me in the very next day. My first impression was awe. The building looks awesome with its mural painting, and the property was well kept. Inside the building was not like your regular garage. The office was very inviting and hospitable with various coffees, sodas, and water. It also had an area for customer to wait that included chairs and a large table if you needed to get some work done while away from school or the office. The garage was also well kept and maintained, It was easy to see there was a high level of professionalism and pride in this garage. Barry worked his tail off to find me a suitable muffler for my system. He was able to have my exhaust system repaired and sounding great that afternoon. The price was very fair and was what I would expect from a reputable garage. There were no surprised. All work was authorized before it was performed. My truck sounded great and was left in the same condition as when i dropped it off. No dirty hand prints or greasy foot marks. I would like to thank the staff at Black Bear for the work they did for me. I had a very good experience at Black Bear Auto and would recommend them to anyone who wants a fair,quality, and conscientious repair.

James S.





This was the best car repair experience I've ever had! Excellent service! Completely fixed! I love this auto shop!

Jon M.





I live in Massachusetts and work in CT. When I took my car to the Toyota Dealer in Massachusetts to get a small repair and a state inspection sticker, I was told my 4-Runner needed $3700 worth of work. I took my inspection sticker, drove right to Black Bear and showed Barry the list of "have to do's" from the Toyota place. Barry took the time to go thru the whole vehicle, make the necessary repairs ($1,000), and walk me thru step by step all of the "issues" that the Toyota place said I needed to do (that did not need to be done) and all of the parts that they were charging me double what Barry charged. I never worry when I take a vehicle to Black Bear that I am getting anything but the top service and the most fair price possible. You have to love a repair shop that tells you all the things you do not need done to your car, rather than the 3 page list of problems you get from the dealers. Run away from the dealership straight to Black Bear....and tell all your friends.

Amy R.





I love bringing my car to black bear auto. I always trust Barry and the rest of the guys with my Infiniti. All around great people and a great shop! Wouldn't go anywhere else.

Dawn L.





I've been bringing my cars to Black Bear for 10+ years. Barry has always been upfront and honest with me regarding repairs and I've truly enjoyed doing business with him and his staff. He's helped me out in several emergency situations, given me rides to and from work and I appreciate his honesty and his willingness to help always! I've referred many family members and friends who have also become long time customers! Barry, thank you for finally being "an honest mechanic"!

Gina S.





Great shop. Barry and his guys always do a great job. I know my car is in good hands at Black Bear.

Marcus O.





They do amazing work and cheap and in a timely manner.

Tammy M.





Since I'm from Florida and dont know anyone when my car broke down i found this place there service is awesome and they are so nice and welcoming i will definitely be going back for future service!

Raquel R.





ery reasonably priced, very knowledgeable, very courteous and helpful. They offer free refreshments in the waiting area, which was very clean and comfortable.

Stephen G.





After having some electrical problems with my car.......Got stuck in a bad situation, needed to get to my husband because his grandmother had just died but when I went out to start my car it almost didn't. I called these guys because I needed someone to help immediately and they went out of their way to make time for me despite not knowing what was wrong with my car or how long it would take them to fix it. By the time I got down to their parking lot my battery had completely died and my car was done. I wasn't going anywhere without their help. Barry, the owner, was so accommodating and so caring. They never charge me a diagnostic fee to figure out what was wrong with my car. Very simply ran outside immediately diagnosed my car and then got one of his mechanics right on it. I was in and out of there within a half an hour. He did not overcharge me in fact in my opinion he under charged me. The mechanics in that situation would have taken full advantage and charged as much as they possibly could have and taking advantage of every possible way. These people did not, they are good people, good mechanics and everyone there has a great big heart. I was able to get to my husband's side and console him with very little headache or worry once I pulled into their parking lot. Definitely got more than my money's worth. Thank you so much Barry and black bear Auto!

Christine A.





Quick, quality, reasonable prices and refreshments in the waiting room. I can definitely say the slogan fits, and I also found my new mechanic!

John S.





Came recommended by someone who knows this area & knows cars & I was not disappointed at all. They fixed an issue that the dealership & several other mechanics couldn't. They were also incredibly courteous! So happy to have found our official local mechanic after living here for 4+ yrs. taking another vehicle there soon

Lindsay S.





Vehicle tips

According to recent studies, 5 percent of all motor vehicle fatalities are clearly caused by automobile maintenance neglect.
The cooling system should be completely flushed and refilled about every 24 months. The level, condition, and concentration of coolant should be checked. (A 50/50 mix of anti-freeze and water is usually recommended.)
Never remove the radiator cap until the engine has thoroughly cooled. The tightness and condition of drive belts, clamps and hoses should be checked by a pro.
Change your oil and oil filter as specified in your manual, or more often (every 3,000 miles) if you make frequent short jaunts, extended trips with lots of luggage or tow a trailer.
Replace other filters (air, fuel, PCV, etc.) as recommended, or more often in dusty conditions. Get engine drivability problems (hard stops, rough idling, stalling, diminished power, etc.) corrected at a good shop.
A dirty windshield causes eye fatigue and can pose a safety hazard. Replace worn blades and get plenty of windshield washer solvent.
Have your tires rotated about every 5,000 miles. Check tire pressures once a month; let the tires cool down first. Don't forget your spare and be sure your jack is in good condition.
Check your owner's manual to find out what fuel octane rating your car's engine needs then buy it.
Keep your tires inflated to the proper levels. Under-inflated tires make it harder for your car to move down the road, which means your engine uses more fuel to maintain speed.
Lighten the load. Heavier vehicles use more fuel, so clean out unnecessary weight in the passenger compartment or trunk before you hit the road.
Use the A/C sparingly. The air conditioner puts extra load on the engine forcing more fuel to be used.
Keep your windows closed. Wide-open windows, especially at highway speeds, increase aerodynamic drag and the result is up to a 10% decrease in fuel economy.
Avoid long idling. If you anticipate being stopped for more than one minute, shut off the car. Contrary to popular belief, restarting the car uses less fuel than letting it idle.
Stay within posted speed limits. The faster you drive, the more fuel you use. For example, driving at 65 miles per hour (mph) rather than 55 mph, increases fuel consumption by 20 percent.
Use cruise control. Using cruise control on highway trips can help you maintain a constant speed and, in most cases, reduce your fuel consumption.
Keep your engine tuned. A fouled spark plug or plugged/restricted fuel injector can reduce fuel efficiency as much as 30 percent.
Inspect the engine's belts regularly. Look for cracks or missing sections or segments. Worn belts will affect the engine performance.
Have the fuel filter changed every 10,000 miles to prevent rust, dirt and other impurities from entering the fuel system.
Change the transmission fluid and filter every 15,000 to 18,000 miles. This will protect the precision-crafted components of the transmission/transaxle.
Inspect the suspension system regularly. This will extend the life of the vehicle's tires.